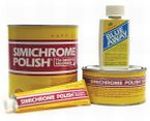 Try it yourself for FREE
SIMICHROME…the world's finest industrial grade metal polish. An excellent finishing polish and purging compound. Words can't do SIMICHROME justice, so try it yourself for FREE!
BlueAway…the fantastic cleaner for dies, molds, and to remove heat-caused "blu-ing" from stainless steel welds. Excellent purging compound, too.
For more information on both products, go to competitionchemicals.com
For your free sample of Simichrome, call 641-648-5121 and ask for dept. 733.